Upcoming Events!
**Tomorrow** Friday 4/29 – Pancake Breakfast
** This Weekend** Saturday 4/30 – CommUNITY Day of Service
Wednesday 5/4 – Bike to School Day
Friday 5/6 – Fun Run
PANCAKE BREAKFAST IS BACK!

Nothing like starting the school day off with some delicious pancakes!
Please join the Roosevelt community for breakfast on Friday, April 29.  Kids, families, and caretakers are welcome!  To avoid a rush at the start of school, we will have 3 seatings: 7:10 – 7:30; 7:30 – 7:50; and 7:50 to 8:10.  Cost is $4.50 in advance (credit) or $5.00 at the door (cash/check only). To prepay and reserve your seat, please click here: https://rooseveltraptorswi.memberhub.com/store
Also, we need a lot of help to make this event run smoothly.  This opportunity is a good one to meet other Roosevelt families.  Fifth graders are welcome to help.  To sign up to help, please click the following link:  https://www.signupgenius.com/go/20F0E4CA9AB2EA5F58-pancake
CommUNITY Day of Service
Support our local CommUNITY in this collaboration between Washington Elementary PTA, Roosevelt Elementary PTA, Friends of Center Street Park and The Park People. 
Center Street Park (64th & Clark)
Saturday April 30
9-11 a.m.
RENEW the park; clean up, weed & spread mulch (gloves and bags provided)

RECYCLE Plastic bags & stretchy plastic film (500 lbs will earn a high performance composite bench from NexTrex) Log your plastic now – click here! 

REPURPOSE or RECYCLE used athletic shoes to Soles 4 Souls

REPLACE a Shade Tree donated by both Washington and Roosevelt PTAs

REPLENISH yourself with drinks & snacks (RSVP here so the supplies can last!) 

So grab your worn out and unused shoes, your bag of plastic bags, roll up your sleeves and dig in with your CommUNITY!
So grab your worn out and unused shoes, your bag of plastic bags, roll up your sleeves and dig in with your CommUNITY!
Fun Run Volunteer Signup is Open!
Happy Spring, Roosevelt families! After a year and a half hiatus, we are excited to bring back one of our favorite events, the Roosevelt Fun Run! The run will be held on Friday, May 6th. To make this event run smoothly, we need lots of volunteers. One of the most popular volunteer slots is the class lap counters, so you can choose your child's slot to help out. But sign up quickly as they fill up fast. We need volunteers in other areas, too, and you'll get to cheer your child and their classmates on no matter what slot you sign up for. Thanks in advance for helping make this event a success!
Roosevelt Fun Run 2022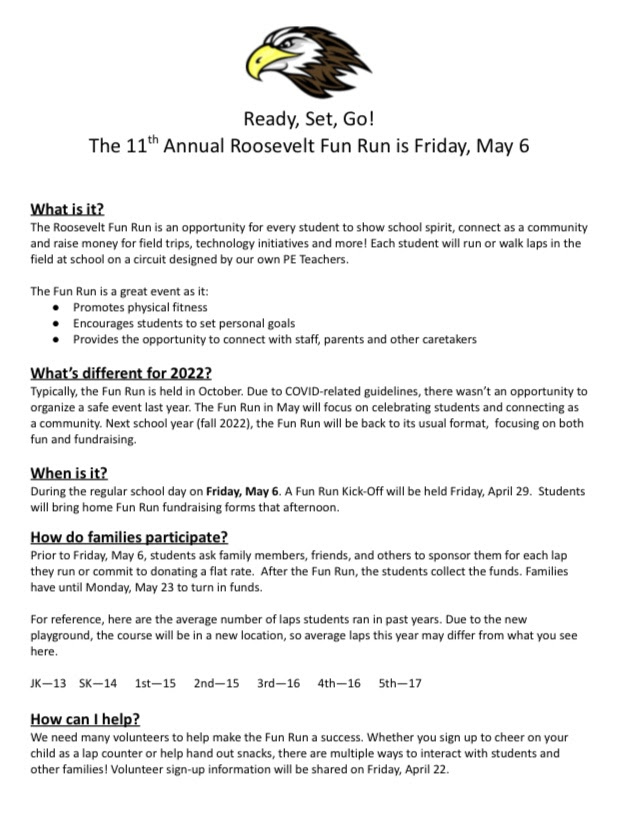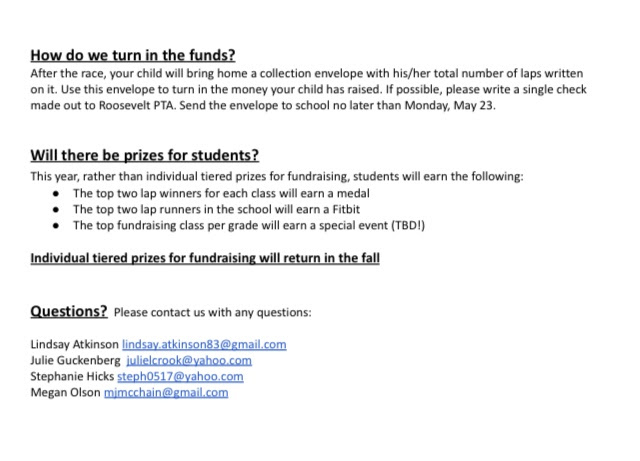 Bike to School Day!
Wednesday, May 4th is bike to School Day! Roosevelt students are encouraged to ride their bikes to school and park them at one of the four bike racks. There are two bike racks on the west side of the building and two on the north side of the playground. Each student is advised to put a lock on their bike as bikes are exposed to the entire community. Please also review these bike safety tips with your family. Bike Safety awareness will continue at the annual Bike Rodeo May 7, 2022 hosted by the City of Wauwatosa.  All are welcome to join.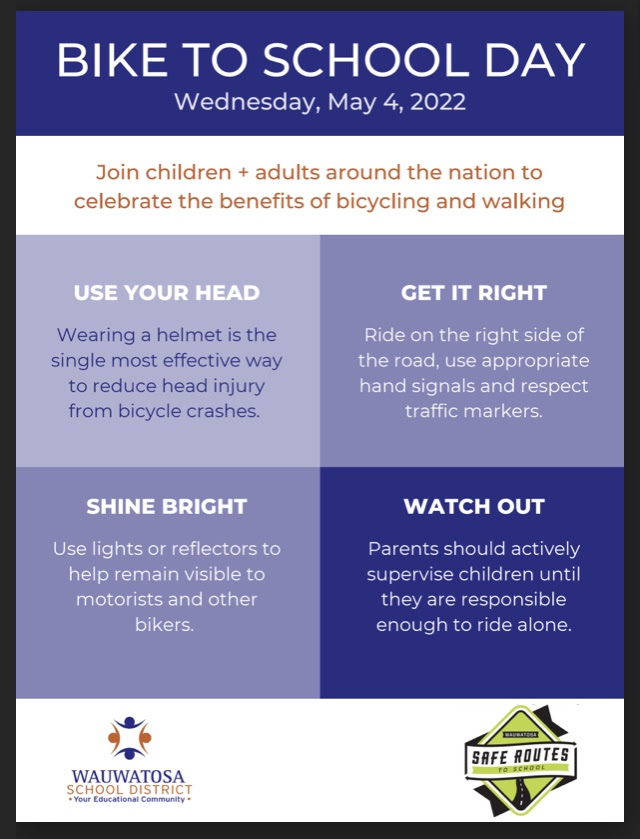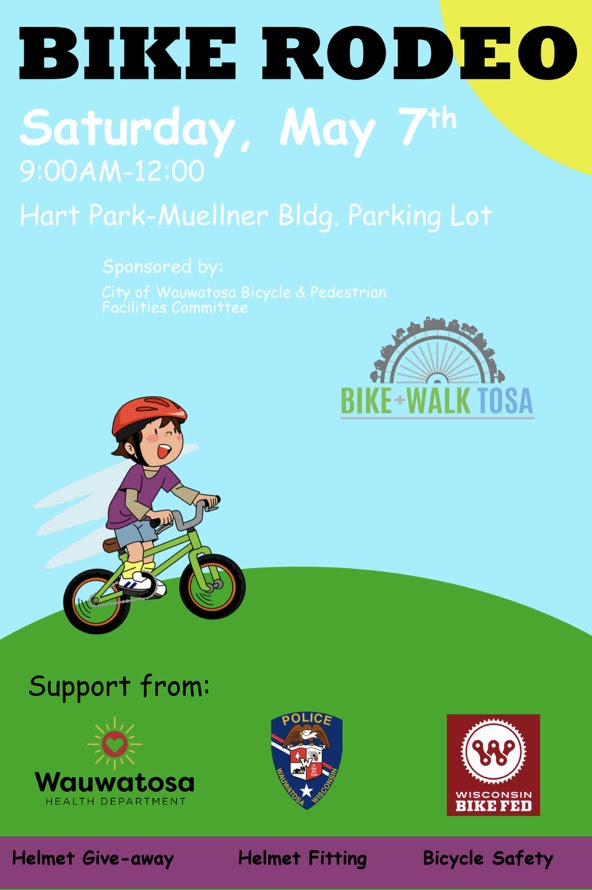 1st Day School Supplies
We are happy to announce out partnership with 1st Day School Supplies again this year! Guarantee that you will get the exact supplies the teachers have requested on time, and shipped to your home!
Order Now –> http://1stdayschoolsupplies.com/kits.php?sid=116288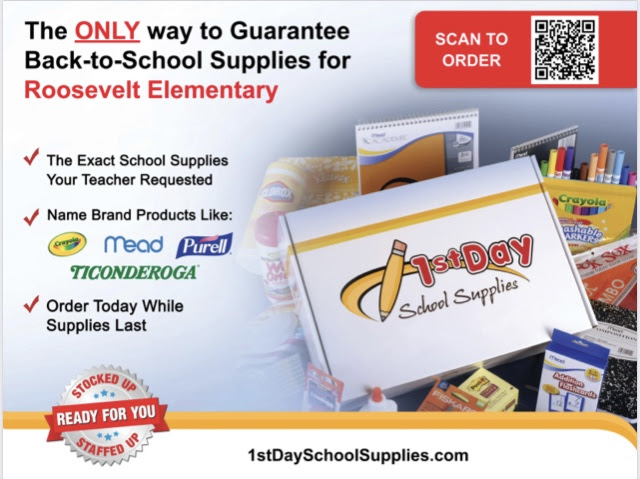 April Recess Supervision
Support the Roosevelt Staff and supervise students as they enjoy the new playground! Select as many slots as you'd like. https://www.signupgenius.com/go/20F0C4FACA82AA7FD0-recess1
Please note: You must be an approved volunteer through the Wauwatosa School District before you can start supervising/chaperoning recess. Volunteers can click on this link to access the volunteer application: https://www.wauwatosa.k12.wi.us/Page/40